(Para leer este sitio en otro idioma, por favor haga clic en "Read in Another Language", ubicado en parte inferior a la derecha de esta página y después seleccione "Translate")  
To learn even more about MME visit the District Website.
---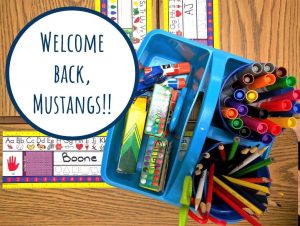 Welcome Back, Mustangs!
It's that time of year again! Summer is winding down and we're all getting ready for the beginning of a new school year. I'm happy that I'll continue in my role as PTA President and I look forward to the coming year.
When our family started at MME, I really had no idea how much the PTA both helped to fund AND run many of the programs on campus, not only extra-curricular but also within the classroom itself. These programs aim to benefit ALL the students at MME.  This is just a sampling of  what the PTA has been able to fund:
Classroom/Teacher Support
Arts Programs
STEM resources such as Robotics and Chromebooks
Supporting the school library
Fieldtrips and family fun nights
Campus climate activities.
Campus beautification
Teacher appreciation
And new this year…a mounted projector in the MPR!
The PTA is able to do this and more through memberships (including parents, teachers, grandparents and more!), fundraising efforts with the support from the MME community and beyond, and the work of dedicated volunteers.
I hope you'll become a PTA member to have a voice in how the PTA support your child's education and to be further involved in how the PTA, supports your child's education and to be further involved in the fun events and programs that enhance the MME community.
I look forward to seeing everyone at the Welcome Back Coffee on the first day of school, Wednesday, 8/28 at 8:30 am in front of the school.
Sincerely, Christa Millstein, PTA President
 Join the PTA and GET INVOLVED!

Don't Miss These Free Back-To-School Events brought to you by your PTA!
Paperless Parade "Welcome Back!"Monday, August 26 3-6pm 
Join your classmates and their families for a cool treat, meet some of our terrific teachers and staff, and check out the teacher posters on the classroom doors. NEW MME t-shirts will be for sale!
Kindergarten Meet and Greet, Tuesday, August 27th 2-3:00 pm in the B Wing 
Kindergarten students and their parents are invited to campus to meet their teachers, see the classrooms and visit with classmates. Snacks will be provided by the PTA.
First Day of School PTA Welcome Coffee, Wednesday, August 28th 8:30 am in front of the school
The PTA is hosting a welcome coffee on the first day of school after drop-ff. Come to the front of the school to enjoy a cup of coffee, meet the other parents and learn more about PTA and how it benefits the school.
First PTA Meeting of the year, Wednesday,  September 11th, 7 pm in the Montgomery Family Resource Center (Room M-1) 
Get involved in the PTA and help support our wonderful MME Community. Don't miss out on the opportunity to add your voice and showcase your talents.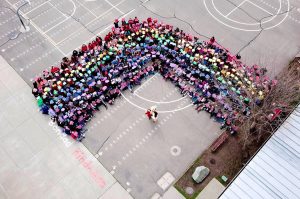 Kindness Challenge Aerial Photograph
Last February, MME staff and students dedicated an entire week to focus on spreading joy and kindness in as many ways as possible. The children of MME also celebrated Kindness Week with a giant Kindness Rainbow, which was captured in an aerial photograph. Thanks to all who participated!