(Para leer este sitio en otro idioma, por favor haga clic en "Read in Another Language", ubicado en parte inferior a la derecha de esta página y después seleccione "Translate")

The MME PTA Annual Auction 
 Online Auction
We are dedicating our PTA Annual Auction to the promotion of a better climate at our school, in our community and for all the planet.
What does a better climate mean?
 Environment – reduce waste, recycling goods, minimizing driving

Social – promoting kindness, safety, cooperation

Health – taking care of our bodies and minds
Find out how you can get involved in the Auction:
Donations & Sponsorship
Classroom Art Project Donations
Auction Details: 
Raffle
Volunteer Opportunities
Fund- A-Need
Christa Millstein and Bekah Tsai, Auction co-chairs
Thank you for supporting MME!
---
PTA Meeting Dates for 2019-2020
Wednesday, September 11, 2019
Wednesday, October 9, 2019
Wednesday, November 6, 2019
Wednesday, December 18, 2019
Wednesday, January 15, 2020
Wednesday, February 11, 2020
Wednesday, March 11, 2020
Wednesday, April 1, 2020
Wednesday, May 13, 2020 (Last PTA Meeting)
Teusday, June 3, 2020 (PTA Budget Meeting- Location TBD)
 Join the PTA and GET INVOLVED!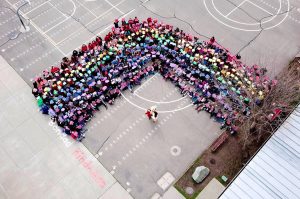 Kindness Challenge Aerial Photograph
Last February, MME staff and students dedicated an entire week to focus on spreading joy and kindness in as many ways as possible. The children of MME also celebrated Kindness Week with a giant Kindness Rainbow, which was captured in an aerial photograph. Thanks to all who participated!