(Para leer este sitio en otro idioma, por favor haga clic en "Read in Another Language", ubicado en parte inferior a la derecha de esta página y después seleccione "Translate")  
To learn even more about MME visit the District Website.
---
Enrich your child's life by joining the PTA and helping us improve our school and our community!  Being a PTA member keeps you connected to events on campus, gives you a voice in how funds are spent to enhance your child's education, and create special events & programs that positively impact all students and the school community. Even if you are not able to regularly attend meetings, the money raised by the PTA pays for student enrichment programs, field trips, classroom supplies, computers and many, many other things.  For example, in the 2017-2018 school year, PTA funds & volunteers were responsible for and/or supported the following Fundraisers, Programs & Events:
… just to name a few.  Put the "Me" in MME – Join the PTA and GET INVOLVED!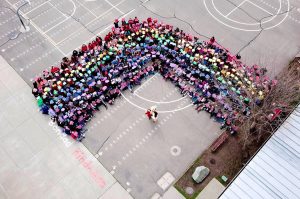 Kindness Challenge Aerial Photograph
Last February, MME staff and students dedicated an entire week to focus on spreading joy and kindness in as many ways as possible. The children of MME also celebrated Kindness Week with a giant Kindness Rainbow, which was captured in an aerial photograph. Thanks to all who participated!