(Para leer este sitio en otro idioma, por favor haga clic en "Read in Another Language", ubicado en parte inferior a la derecha de esta página y después seleccione "Translate")  
To learn even more about MME visit the District Website.
---
Enrich your child's life by joining the PTA and helping us improve our school and our community!  Being a PTA member keeps you connected to events on campus, gives you a voice in how funds are spent to enhance your child's education, and create special events & programs that positively impact all students and the school community. Even if you are not able to regularly attend meetings, the money raised by the PTA pays for student enrichment programs, field trips, classroom supplies, computers and many, many other things.  For example, in the 2017-2018 school year, PTA funds & volunteers were responsible for and/or supported the following Fundraisers, Programs & Events:
… just to name a few.  Put the "Me" in MME – Join the PTA and GET INVOLVED!
Annual Dinner and Auction
Tickets on Sale Now!
Schedule a babysitter and get ready to FIESTA!  Join us on Saturday, March 2nd, 2019 from 5:30pm – 10:00pm at the Veteran's Memorial Center (203 E 14th St) for the Mexican-themed 17th Annual Dinner & Auction benefiting Marguerite Montgomery Elementary.  Enjoy a social evening of music, drinks, appetizers, dinner, dessert, silent & live auction, and interacting with friends & fellow MME supporters. No one will want to miss this event!!
 TICKETS are now available for purchase at https://mmepta.schoolauction.net/fiesta2019/register. This is the most important fundraising event of the year!  Over 50% of our annual PTA budget is primarily funded by proceeds from our Annual Dinner and Auction!  For more information, please visit http://mmepta.org/?page_id=2318.
  A full calendar can be downloaded here in either English and Spanish.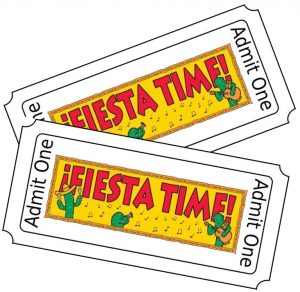 Let's Sell Raffle Tickets! 
Help us reach our goal of selling 1500 raffle tickets!  We are half way to our goal with only 3 weeks before our MME Auction.  Don't miss the opportunity for your child to earn a FREE raffle ticket and possibly win a trip to Disneyland or a Montgomery Mystery Piñata.
Ask your family members, friends, and co-workers and tell them about the great prizes being raffled off:
| | |
| --- | --- |
| Grand Prize:  | Disneyland 2-Day Park Hopper Family Pass for 4 ($1000 value) |
| 2nd prize:   | Disneyland 1-Day Park Hopper Family Pass for 4 ($500 value) |
| 3rd prize:    | Montgomery Mystery Piñata (minimum value of $150) |
Together we can do it!!
CALENDAR
Feb 18 (Monday)         THERE ARE NO CLASSES- PRESIDENT'S DAY
Feb 19 (Tuesday)        Auction Planning Board, MME-M1 6:30 pm
Feb 20-Feb. 27            Kindness Week Challenge
Feb 19 (Tuesday)        Auction Meeting Beach Hut Deli
Feb 20 (Wednesday)   School Council Meeting, MME-M1 4:30 pm
Feb 21 (Thursday)       Intercambio! 8: 45-10 am in MPR
Feb 21 (Thursday)       Intercambio! 6 to 7 pm, Library-MME
Feb 25 (Monday)         Intercambio! 8: 45-10 am in MPR
Feb 26 (Tuesday)        Last Day for Box Tops for Education
Feb 26 (Tuesday)        Parent Involvement Night, DSHS 6-8 pm
Feb 27 (Wednesday)   Prep & Packaging Auction Party
Feb 28 (Thursday)       Intercambio! 8: 45-10 am in MPR
Feb 28 (Thursday)       Intercambio! 6 to 7 pm, Library-MME
Mar 02 (Saturday)       17th Annual Dinner and Auction