(Para leer este sitio en otro idioma, por favor haga clic en "Read in Another Language", ubicado en parte inferior a la derecha de esta página y después seleccione "Translate")  
To learn even more about MME visit the District Website.
---
Enrich your child's life by joining the PTA and helping us improve our school and our community!  Being a PTA member keeps you connected to events on campus, gives you a voice in how funds are spent to enhance your child's education, and create special events & programs that positively impact all students and the school community. Even if you are not able to regularly attend meetings, the money raised by the PTA pays for student enrichment programs, field trips, classroom supplies, computers and many, many other things.  For example, in the 2017-2018 school year, PTA funds & volunteers were responsible for and/or supported the following Fundraisers, Programs & Events:
… just to name a few.  Put the "Me" in MME – Join the PTA and GET INVOLVED!
Message from Principle Mc Neil 
It is with great sadness that we share news that our MME Community has lost one of its Little Mustangs. While on vacation this past week in Mexico, one of our MME families was in a horrible car accident. Evelyn Ascencio Tavares, a 1st grader at our school, and her father, Cayetano Ascencio, lost their lives. Evelyn's younger sister, Julissa Ascencio (July), and her mother, Veronica Tavares, are currently in ICU in Mexico fighting for their own lives. Evelyn just completed 1st grade at MME and was such a shining star ready to start 2nd grade. July is enrolled to start MME Kinder in August and was very excited to be a Mustang herself.
If you would like to support the family, a GoFundMe website has been established to help collect money to pay for funeral and medical expenses.
https://www.gofundme.com/f/usq8fk-funeral-expenses…
Es con gran tristeza que compartimos que nuestra comunidad de MME ha perdido uno de sus Mustang. Mientras estaba de vacaciones en México esta semana pasada, una de nuestras familia de MME estuvo en un horrible accidente automovilístico. Evelyn Ascencio Tavares, una estudianta de 1er grado en nuestra escuela, y su padre, Cayetano, perdieron sus vidas. Su hermanita menor de Evelyn, Julissa (July), y su madre, Veronica, se encuentran actualmente en cuidado intensivo en México luchando por sus propias vidas. Evelyn acababa de terminar el 1er grado en MME y estaba lista para comenzar el 2º grado. July estaba muy emocionado de comenzar Kinder en agosto y ser un Mustang.
Se ha establecido un sitio de GoFundMe para ayudar a recaudar dinero para pagar gastos funerarios y médicos. Esta es una gran pérdida para nuestra familia Mustang y cualquier cantidad va ser una gran ayuda.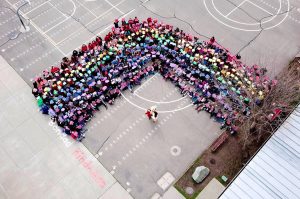 Kindness Challenge Aerial Photograph
Last February, MME staff and students dedicated an entire week to focus on spreading joy and kindness in as many ways as possible. The children of MME also celebrated Kindness Week with a giant Kindness Rainbow, which was captured in an aerial photograph. Thanks to all who participated!