(Para leer este sitio en otro idioma, por favor haga clic en "Read in Another Language", ubicado en parte inferior a la derecha de esta página y después seleccione "Translate")  
To learn even more about MME visit the District Website.
It's Not Too Late to Become a PTA Member
Haven't become a PTA Member this year yet?  You are in luck, it's not too late to become a member.  Help MME PTA surpass last year's number of PTA members! Your $12 membership dues help support all students, teachers, and staff at MME. Even if you are not able to regularly attend meetings, the money raised will financially support programs for our students.  Please consider becoming a PTA member this year! PTA membership applications can be found in the office or you can find it attached or download the PTA Membership Form return it to the PTA box in the school office
You can find more information and forms on mmepta.org under PTA Info à Become a Member. 
---
PTA Meeting Dates for 2019-2020
Wednesday, September 11, 2019
Wednesday, October 9, 2019
Wednesday, November 6, 2019
Wednesday, December 18, 2019
Wednesday, January 15, 2020
Wednesday, February 11, 2020
Wednesday, March 11, 2020
Wednesday, April 1, 2020
Wednesday, May 13, 2020 (Last PTA Meeting)
Teusday, June 3, 2020 (PTA Budget Meeting- Location TBD)
 Join the PTA and GET INVOLVED!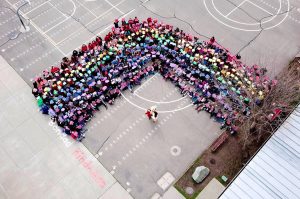 Kindness Challenge Aerial Photograph
Last February, MME staff and students dedicated an entire week to focus on spreading joy and kindness in as many ways as possible. The children of MME also celebrated Kindness Week with a giant Kindness Rainbow, which was captured in an aerial photograph. Thanks to all who participated!