Campus Beautification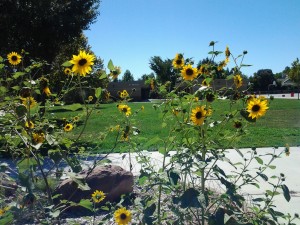 MME has one of the most beautiful campuses in the district – thanks to our one-and-only Judy Leatherman and the green thumbs of a few dedicated MME families.
To keep it looking great, Gardening & Beautification Days and Activities will be scheduled throughout the school year where our community can come out and support MME's gardening & campus beautification program. Bring water, sunscreen, a hat, sturdy shoes, and your favorite gardening gloves if you'd like.  We have the tools and snacks are usually provided.  Make it a family activity – kids are welcome to come and help out too!
Stay tuned to the weekly email newsletter Pony Express, this mmepta.org website, and the Parent Email Distribution List for events as they are scheduled.  If you have any questions, please contact our Campus Beautification Committee Chair Bekah Tsai at bekahtsai@gmail.com.
---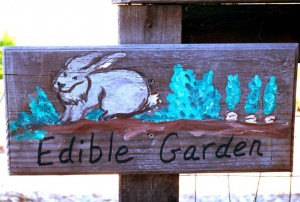 The Edible & California Native Gardens
The Edible Garden and the California Native Garden are very special places on campus and MME.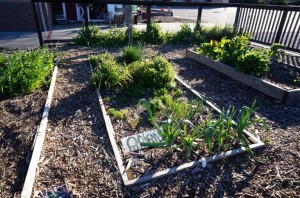 Judy contributes in many ways throughout the year.  She teaches students during class rotations how to weed, water, plant and harvest, and some of her special lessons include composting, nutrition, insects, pollination, science, art-in-the-garden, and even cooking!  She also plants and maintains both the Edible Garden in the back of the F-Wing near the play structure and the California Native Garden in the front of the school surrounding the flag pole.
Judy also hosts a Spring Plant Sale – just in time for Mother's Day presents and edible garden planting season – which is an important fundraiser for the Garden Program.  If you have any questions, please contact our Garden Coordinator Judy Leatherman at jleatherwoman@gmail.com.