Davis Parent University (DPU) is coordinated by the Davis Community-Wide Parent Education Collaborative, and strives to present quality programs and events on topics of interest to Davis families, caregivers, teachers and administrators.  "Like" the Davis Parent University Community on Facebook, and get a steady stream of relevant and interesting articles and information related to children & education.
The Davis Parent University Lecture Series strives to provide high-caliber events and programs to our community's parents, caregivers, teachers, and administrators.


Lisa Damour, Ph.D
Monday, January 9, 2017
7-9pm
Tickets available 3 weeks prior
Doors open at 6:15 pm
Brunelle Theater, Davis High School
315 W. 14th StreetLisa Damour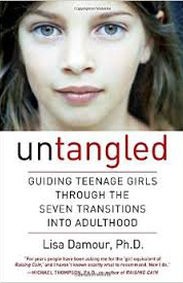 Untangled: Guiding Teenage Girls Through the Seven Transitions into Adulthood
Untangled helps mothers and fathers understand, connect, and grow with their daughters. When parents know what makes their daughter tick, they can embrace and enjoy the challenge of raising a healthy, happy young woman.
Previous DPU lectures include:

Davis Parent University is thrilled to launch its 8th year starting October 19th, 2016 with Ron Lieber, New York Times "Your Money" columnist and bestselling author of The Opposite of Spoiled.
 Pulitzer Prize-winning New York Times technology journalist Matt Richtel spoke on the latest science behind distracted driving and the possible solutions that can protect your teens and yourselves!If you missed the lecture you can view it online:https://dctv.davismedia.org/dpu-Richtel 
Dr. Shimi K. Kang, M.D. spoke about her best-selling book "The Dolphin Way:  A Parent's Guide to Raising Healthy, Happy, and Motivated Kids—Without Turning into A Tiger" where she suggests a new parenting model which focuses on maintaining balance in children's lives through intelligent, joyful and playful interaction.
New York Times Best-Selling Author Jennifer Senior talked about her new book "All Joy and No Fun – The Paradox of Modern Parenthood" that explores how children reshape their parents' lives – for better and worse.
Best selling author John O'Sullivan spoke about "The Psychology of High-Performance" and developing more competitive, high-achieving athletes through environments of love and respect, rather than fear and pressure.
Mike Riera, PhD. talked about his latest book "Staying Connected To Your Teen" and his philosophy that "parents need to shift from being managers, to being consultants with their teens."
Davis Parent University Facebook Page
For more info and to view past lectures go to http://dctv.davismedia.org/dpu.
Find us on Facebook: Davis Parent University
Questions? Email davisparented@gmail.com or our DPU Liasion Kelly Heung at kbdelfavero@yahoo.com.