These are great opportunities to bring your friends and families to local Davis restaurants on special MME Days, where a percentage of the proceeds made on the food you purchase will go to MME!
__________________________________________________________________________
Applebee's
1753 Research Park Dr.  Davis, CA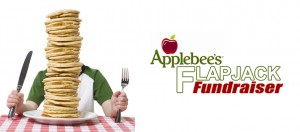 Applebee's will be hosting a Flapjack Fundraiser on Saturday, December 3, 2016.
Please join us for our first ever Applebee's Flapjack Fundraiser! This all-you-can-eat event runs from 8am to 10am and features bottomless pancakes, bacon, beverages, and more! Tickets are $10 for adults and $7 for kids 9 and under. But wait, there's more – your meals will be brought to you by some very special guests – did someone say TEACHERS?! Stay tuned for more details as the date approaches.
Tickets will be available for sale beginning November 1st. All proceeds, including tips for your delightful servers, go to benefit the MME PTA! To purchase tickets, please click here.
For questions please contact Kate Logvy at klogvy@gmail.com.
Thank you for supporting MME!